Climate change could make America a hotter and drier disaster area...
Campaign against Climate Change Logo (Photo credit: Wikipedia)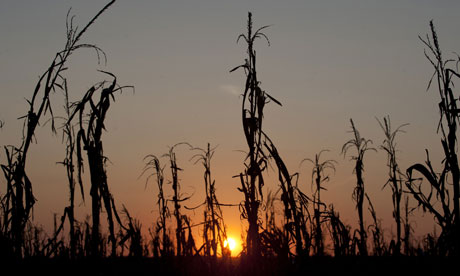 Future generations of Americans can expect to spend 25 days a year sweltering in temperatures above 100F (38C), with
climate change
on course to turn the country into a hotter, drier, and more disaster-prone place.
The National Climate Assessment,
released in draft form on Friday
, provided the fullest picture to date of the real-time effects of climate change on
US
life, and the most likely consequences for the future.
The 1,000-page report, the work of the more than 300 government scientists and outside experts, was unequivocal on the human causes of climate change, and on the links between climate change and
extreme weather
.
"Climate change is already affecting the American people," the draft report said. "Certain types of weather events have become more frequent and/or intense including
heat waves
, heavy downpours and in some regions floods and
drought
. Sea level is rising, oceans are becoming more acidic, and glaciers and
Arctic sea ice
are melting."
The report, which is not due for adoption until 2014, was produced to guide federal, state and city governments in America in making long-term plans.
By the end of the 21st century, climate change is expected to result in increased risk of asthma and other public health emergencies, widespread
power blackouts
, and
mass transit
shutdowns, and possibly shortages of food.
"Proactively preparing for climate change can reduce impacts, while also facilitating a more rapid and efficient response to changes as they happen," said Katharine Jacobs, the director of the National Climate Assessment.
Read more:
http://www.guardian.co.uk/environment/2013/jan/11/climate-change-america-hotter-drier-disaster
Ecospree