Critically endangered NZ Storm Petrel actually found breeding...
English: White-faced Storm-petrel (Pelagodroma marina) (Photo credit: Wikipedia)
English: New Zealand Storm-petrel (Oceanites maorianus) (Photo credit: Wikipedia)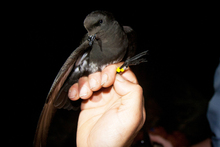 A New Zealand seabird, which was thought to be extinct for over 150 years, has been found breeding on
Little Barrier Island
.
The sparrow-sized New Zealand storm petrel is critically endangered and was thought extinct until a sighting in 2003.
But a team of Auckland University researchers has found the species breeding on Little Barrier Island in the
Hauraki Gulf Marine Park
.
Chris Gaskin and Doctor Matt Rayner, who have been leading the research, have been camping on the
Poor Knights Islands
,
Mokohinau Islands
and Little Barrier Island to track the breeding sites with radio receivers.
"It's like looking for a needle in the haystack," said Gaskin.
Twenty-four birds have been caught this year so far, when they've been fitted with 1g
radio transmitters
. Team members based at a remote camp on Little Barrier Island were able to track the birds' movements, following the signals until they came to a stop.
"The site being monitored is very fragile and with birds at a delicate stage in their breeding cycle.
http://www.nzherald.co.nz/nz/news/article.cfm?c_id=1&objectid=10867625