Booming NZ bird populations considered a potential urban problem...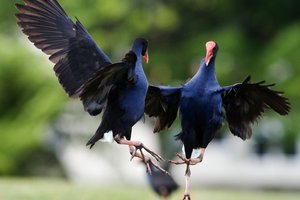 Threatened forest species may face a plague of predators if a bumper beech season leads to a surge in rodents, which then make meals of endangered birds and bats.
However at the same time, a study has shown booming native bird populations in urban reserves are likely to upset city dwellers with their songs and droppings.
The Department of Conservation (DOC) said beech trees were flowering heavily across the country following ideal climate conditions in the past two summers.
That will lead to large amounts of seed falling next autumn, providing abundant food for rats, stoats and mice.
http://www.nzherald.co.nz/nz/news/article.cfm?c_id=1&objectid=11165712