Kayaker forgot about fishing - became part of the pod...
The Otago Harbour basin and central Dunedin, as seen from Signal Hill. (Photo credit: Wikipedia)
Mother and juvenile bottlenose dolphins head to the seafloor. (Photo credit: Wikipedia)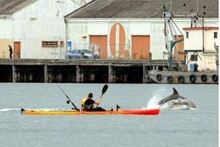 Fishing was the last thing on kayaker Paul Hannah's mind when he realised he was accompanied by a pod of bottlenose dolphins in Otago Harbour yesterday morning.
The pod of about 50 to 60
dolphins
appeared to be hunting for salmon and spent the day milling about the harbour travelling from the wharves to the
Andersons Bay
causeway,
University of Otago
graduate student Tom Brough said.
He had just completed surveying the bottlenose dolphins around
Stewart Island
last week and had identified four seen there in the pod in Otago Harbour.
"They've done about 150 miles in just over a week."
Researchers could identify the dolphins by their dorsal fins and had done what was thought to be the first scientific photographic survey of those in Otago Harbour for future reference. Most scientific research on the dolphins had been done on the resident
Fiordland
populations in Dusky and Doubtful Sounds.
Mr Hannah said it was the first time in 12 years of kayaking the harbour and coast that he had seen dolphins, so he gave up on the idea of fishing.
http://www.nzherald.co.nz/nz/news/article.cfm?c_id=1&objectid=10853271
Ecospree