Akaroa Harbour in Banks Peninsula to become a marine reserve...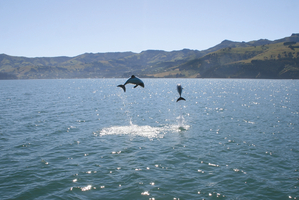 Hectors dolphins at Akaroa Harbour.
Canterbury's popular tourist spot Akaroa Harbour is set to become a marine reserve to recognise the marine environment as the "new frontier for conservation".
Conservation Minister Dr Nick Smith announced today the new marine reserve will come into effect on World Oceans Day next June 8.
"This new reserve will ensure better conservation of its marine life and add value to Akaroa as a tourism destination," he said.
The 475-hectare reserve covers the south east corner of Akaroa Harbour and includes the area surrounding the spectacular Dan Rogers Bluff.
An application was first lodged in 1996, and Dr Smith gave his approval in April.
"Akaroa is just one of a number of marine reserves I want to advance next year. Eighty per cent of the species unique to New Zealand are in the sea, yet we have far less of our ocean protected compared to land."
h
ttp://www.nzherald.co.nz/environment/news/article.cfm?c_id=39&objectid=11175948