The Adelie penguins of Cape Denison are short of food and dwindling in numbers...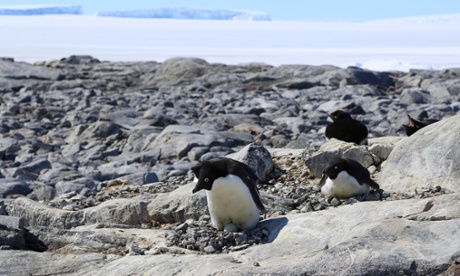 Every coast or sea we have visited in
Antarctica
, we have seen
penguins
. They come to the shoreline to investigate our ship as we sail past, they hop on and off
ice floes
, flocks of them fly in formation through the water. Night or day, there are always a dozen penguins, at least, within sight of the ship.
At Cape Denison, where Douglas Mawson built his base camp, the colony of Adelie penguins consists of several rookeries, each one spread across the rocks in the valleys around his huts. "
Weddell seals
and Adelie penguins in thousands rested upon the rocks," wrote Mawson about ariving at Cape Denison in January 1911. "The latter chiefly congregated upon a long, low, bare islet situated in the centre. This was the largest of the group, measuring about half a mile in length."
He often wrote about the birds in his accounts, and one of the rocky outcrops near the huts was even nicknamed Penguin Hill. The plentiful numbers meant there was always a potential source of fresh meat, his expedition-members noted, but no one at the time made any scientific counts of the birds.
http://www.theguardian.com/science/antarctica-live/2013/dec/24/the-penguins-of-cape-denison